Dear Current or Prospective SMS Students and Parents,
I would like to take this opportunity to welcome you to our school, and I certainly hope you find the information on our website to be helpful and informative. We have a tremendous staff and student body at our school, beautiful facilities, and excellent programming, and everyone works hard to make our school the best that it can be.
At Sullivan Middle School, we are committed to student success and are driven to help them grow socially, emotionally, and academically by the variety of programming we have in place. We work hard to educate the whole child and prepare them for their upcoming years in high school and society. We do this by working diligently to to offer a variety of opportunities for our students. We are a one to one school where every student has their own iPad, and our technology is second to none.
The curriculum at Sullivan Middle School is designed so that it meets the need of every child, no matter where they are in terms of academics. For our advanced students, we offer an advanced curriculum that provides classes where our academically gifted students can receive challenging coursework in a variety of subjects. For our students who may need a little extra support, we offer programming that provides remediation and enrichment in any areas of need that may exist. Furthermore, we offer industrial arts classes, choir, agriculture, art, and career exploration. It is a curriculum designed to meet every student wherever he/she may be academically, and help them improve on talents they already have, and/or discover new talents they have never yet had the opportunity to discover. Our curriculum is designed and based off of the idea that we do what is best for kids, and we are steadfast at providing students with an education they need and deserve.
Beyond the textbooks, iPads, and classrooms, we strive to offer students a variety of extracurricular activities. We have one of the best Beta Clubs in the state, we offer many opportunities for students to be on academic teams, and our students can take part in just about any form of athletics that they may be interested in. In short, we are a school with tremendous academics and tremendous extracurricular programming, and we offer students a wonderful education and middle school experience.
If you are a current parent and/or student and you have questions concerning our classes and/or programs, please do not hesitate to contact me. Furthermore, if you are a new or prospective student and/or parent, and you have any questions for me concerning our school or the education we can provide to your child, please feel free to contact me at any time. In either situation, you can reach me by phone at (812) 268-4000 or by email at dhitt@swest.k12.in.us.
Go Arrows!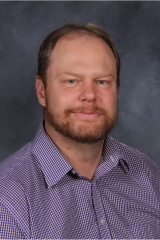 Dustin Hitt
SMS Principal